The business of law isn't what it used to be. The economic climate has changed. The billable hour is dying. Clients want value, and lawyers face increasing competition from customary rivals as well as emerging online DIY companies that have commoditized many of the services historically provided by traditional law firms.
That means it is time to start thinking about how to revolutionize the way you practice law.
It's time to start thinking about accomplishing more while using less resources.
For lawyers to succeed in this new marketplace, they must be efficient and effective. They must be innovative and willing to reinvent themselves to stay ahead of the pack. Today, lawyers must be capable of delivering quality legal services and value to their clients in a different way, and that means leveraging many elements within your practice.
In the current climate, firms which do not embark on this mission will most definitely be left behind. Very soon, there will be no room for the inefficient law firm in the market.
Even now, subtle things can make a loud statement about the savviness of a lawyer or law firm.
For example, with technology – a generic (personal) email address (lawyersmith@gmail.com or realestateatty@aol.com). There are many people who would simply never work with a law firm who used a generic email address like that, because they would immediately assume (and probably accurately assume) they were not proficient users of technology, and anything they did for them would cost more than a firm that was leveraging technology.
With people and process – are you constantly contacting your client about things someone else at your firm already knows? Or are you rushing to meet deadlines? Or are your team members not up to speed with key issues? Today's discerning client will want to find a legal partner who demonstrates proactively that they are managing whatever matter they are working on and are "on top of it."
Any given day in a law firm is often plagued with chaos and a lack of systems that reduces the ability to consistently deliver legal services in the most efficient way, while maintaining the quality service that is expected from a legal professional. It is time to focus on the systems and tools that lawyers can use to achieve consistency, cut costs, improve efficiency and increase their profitability.
In a nutshell, it is really about building a better mousetrap. It is about a methodology to help you identify and solve problems in your firm. So often, when a problem is identified, our first reaction is to come up with the least painful way to solve that problem. Sometimes it means we hire someone. Sometimes it means we look at a new software program to fix it. Sometimes we change a part of a process to fix one problem, but we create several other problems because of that one change.
The diagram below is one that everyone needs to understand when it comes to identifying the root cause of every problem we encounter.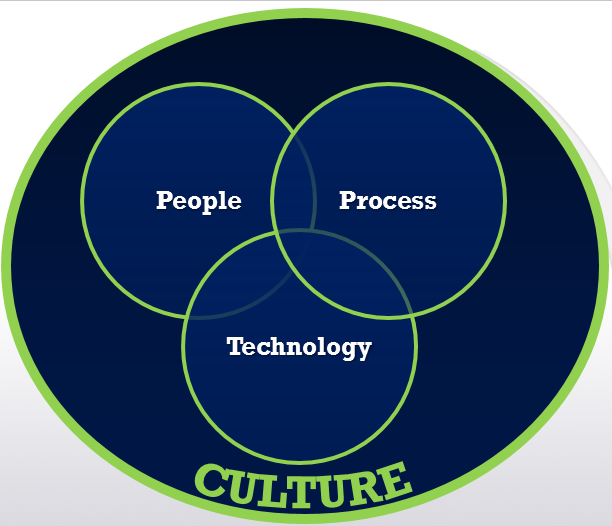 Very rarely do we discover an issue that only affects one of these components. Before attempting to solve any problem, consider everything that could be contributing to it.
A. People: Is the right person doing the right job? Has the person been properly trained to do the job correctly? Is the person a good fit for your firm?
B. Process: Is the process that is failing well documented? Have the people that actually do the task been involved in defining the process? Is the process followed by everyone?
C. Technology: Does your technology support our processes? Are the people properly trained on how to use the technology? Is the technology outdated?
D. Culture: Does our firm culture support an environment where our people can challenge processes that do not work in the most efficient manner? Are our people rewarded for finding a better way of doing something? Do we live in a culture of "that's the way we have always done it"?
So, what does any of this have to do with Firm Fitness or Firm Profitability? Working with hundreds of firms of all shapes and sizes every year has taught us that firms have to re-imagine the way they do their work. They really cannot just focus on broken technology, or missing processes. And using Lean Six Sigma tools is a great way to start tackling the issues, one at a time.
Want to learn more about how Affinity can help you boost your firm's financial fitness? Request a consultation now. 
As Managing Partner, Debbie spends her time running Affinity, working with clients, and speaking to lawyers and other legal professionals all over the place. Her talks focus on fun topics like Law Firm Leadership, Effective Communication, Why Process Matters, Time Management and lots more. Debbie is passionate about all things law firm and legal department-related and she prides herself in sharing what she knows as much as possible. Debbie's ultimate goal is to help people run firms that intentionally become more and more successful.